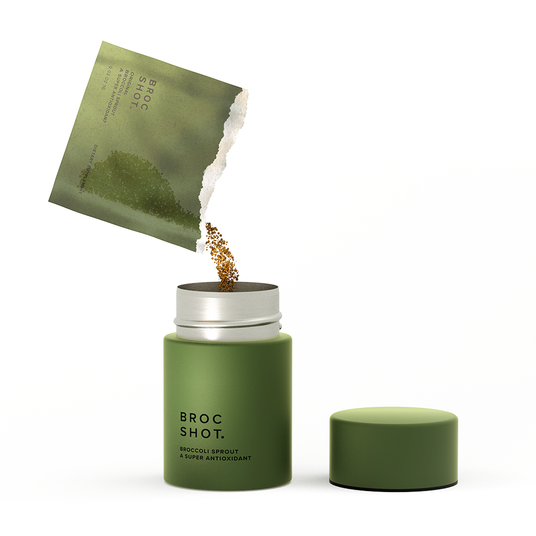 Our Packaging
We are excited to be leaders in packaging sustainability. Our sachets are derived from wood pulp, sugarcane and cornstarch. We are proud to be conventional plastic-free* and foil-free as well as certified BPI commercial compostable with 90% degradation in 6 months. Each Broc Shot starter kit includes a reusable, stainless steel shaker for a perfectly dosed shot.

BPI certification is North America's leading certifier of compostable products and packaging.

*current packaging is commercially compostable and includes an interior lining that is bioplastic from natural sources
How it actually
Breaks down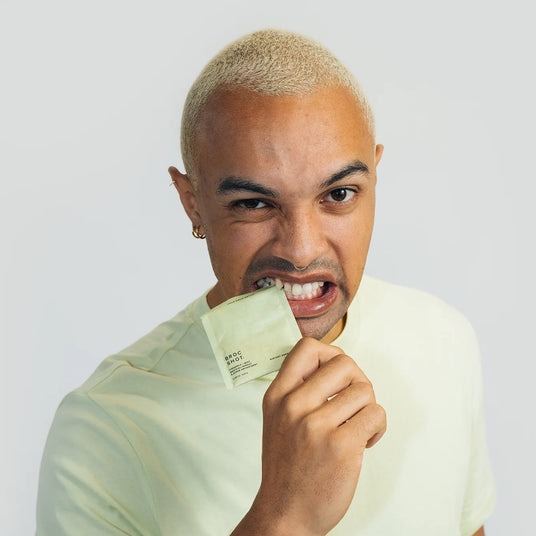 100% Plastic-Free + Foil-Free
By Fall 2023, we will no longer be using bioplastics, therefore our packaging will be 100% plastic-free and foil-free, as well as both commercial and home compostable.
While we no longer offer our single-use shots, we are proud of our previous efforts to keep those out of landfills and waterways. BROC SHOT launched originally with a single-use patented dosing cap for a convenient, effective freshly mixed shot. With only 9-10% of plastics being recycled in the US, we partnered with Terracycle, to recycle them into long-use things we need like school desks, park benches and playground equipment. With each order, customers received a pre-paid shipping label to send their empties at no-cost to Terracycle. This program successfully helped keep over 30k bottles out of waterways and landfills.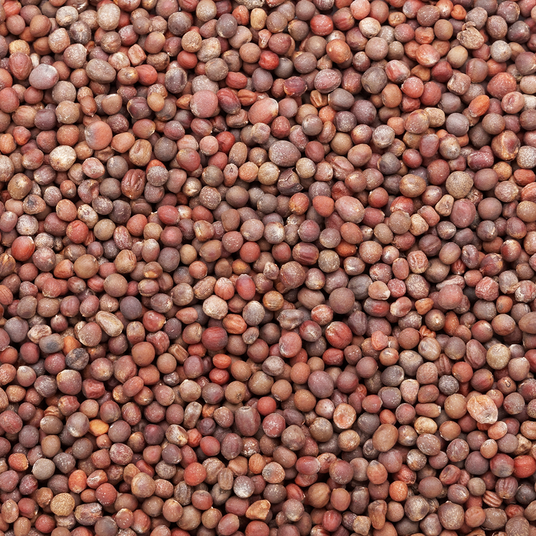 Seed Selection
Our process begins at seed selection.  There is a 20-fold variation in the bioactives in a broccoli sprout . The seeds we use are a higher yield of sulforaphane than one could buy at a store or typically grow at home.  Our selection process includes tests done at the seed level to help yield a consistent amount of at least 15mg of sulforaphane from approximately 12-15 grams of our fresh sprouts, being that they are the highest quality/yield seed.  For reference to ingest 15mg of SFN from grocery store / or homegrown sprout, you would likely need to eat about 200-400 grams of sprouts.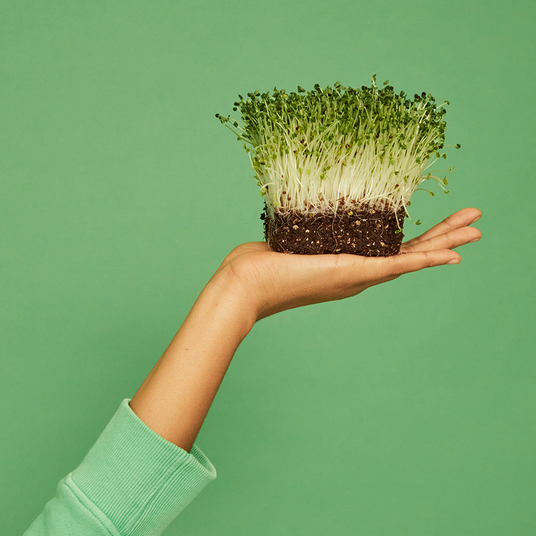 Sprouting + Cultivation
We grow our sprouts to 3 days old, dry and mill them to make our broccoli sprout powder. Our sprouts are never freeze-dried. While freeze-drying is considered by many to be the superior drying process for plant materials, for enzyme-based plants, it is destructive and so it is not appropriate for cruciferous plants. We never use extracts or synthetic sulforaphane. Our sprouts are NON-GMO and grown hydroganically, a process that combines hydroponic + pesticide/herbicide-free cultivation systems. We don't use any agricultural / environmental chemical pesticides or herbicide residues at any stage of our process.

Testing
We test at multiple points during growing and manufacturing, including testing at seed level to determine which seeds will yield a strong sulforaphane level as well as third-party test each final batch to confirm it yields no less than (NLT) 15mg of sulforaphane.  We also test for chemical residue + heavy metal contamination, as well as to assess the microbiological profile. No product is released unless it passes our strict standards.